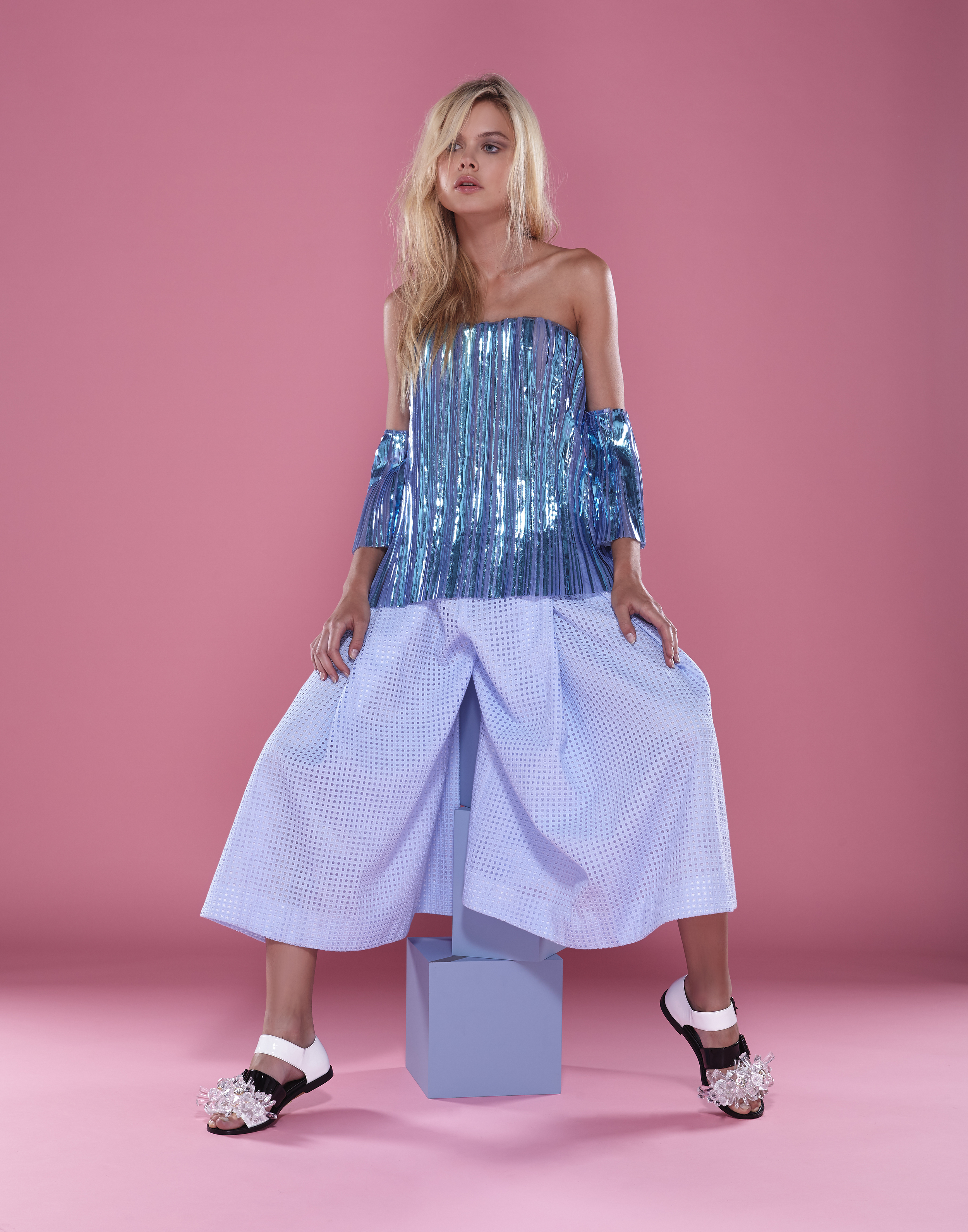 METALLIC PLEATED OFF SHOULDER TOP HAND MADE WITH 100% COTTON WIDE PLEATED PANTS MADE IN ITALY.
100% COTTON STRAPLESS PLEATED LONG DRESS WITH RIBBON BELT.
LEFT: 100% SILK GEOMETRIC SLEEVELESS SHIRT WITH 100% SILK MIDI FLARE SKIRT.
RIGHT 2: DUCHESS JUMPSUIT WITH BOWTIE BELT.
V-NECKED & PLEATED MINI SKIRT IN 100% SILK GEOMETRIC PRINTED.
LEFT: TOP WITH ASYMETRICAL DETAIL WITH JACQUARD SKIRT.
RIGHT: JACQUARD CORSET MINI DRESS WITH SWAROVSKI EMBROIDERY.
DEEP-V-NECK DRESS WITH RUFFLES IN CHIFON 100% SILK
TOP: 100% COTTON CROPPED SLEEVELESS TOP WITH BAND PATCHES.
SKIRT: 100% COTTON EYELET FRONT SLIT MIDI SKIRT WITH EMBROIDERIES.
OFF-SHOULDER TOP WITH LONG SLEEVES AND FLORAL EMBROIDERY.
100% COTTON EYELET SLEEVELESS OPEN HEART DRESS IN COTTON WITH FLORAL EMBROIDERY.
100% SILK BABY DOLL DRESS WITH FRONT BOWTIE DETAIL.
100% SILK CROSET LONG DRESS.
TOP SLEEVELESS PLEATED METALLIC TOP
GEOMETRIC PRINT IN DUCHESS LONG VEST WITH CROPPED SLEEVES AND PANT.
100% COTTON SHIRT DRESS WITH PRINTED PLEATED BOTTOM.
LEFT: CHNAEL DRESS WITH FLOWER EMBROIDERED.
RIGHT: PLEATED LONG DRESS WITH FRONTAL SLIT.